VRTEACHER Handbook: A Comprehensive Guide to Transforming Education with Virtual Reality
The consortium announces the release of the VRTEACHER Handbook, a valuable resource designed to empower educators with the knowledge and strategies to integrate VR technology into their teaching practices. This comprehensive guide provides practical insights, best practices, and innovative approaches to enhance classroom experiences through immersive VR simulations. From creating engaging virtual environments to fostering empathy and addressing diverse student needs, the VRTEACHER Handbook equips educators with the tools they need to unlock the full potential of VR in education. Explore the VRTEACHER Handbook and start your VR journey.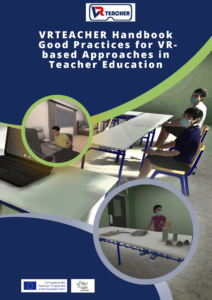 VRTEACHER project successfully concluded
The consortium is thrilled to share with you the final edition of our newsletter, marking the culmination of the VRTEACHER project. Over the past two years, we have embarked on a transformative journey to revolutionize teacher training through the power of virtual reality (VR). Today, we celebrate the successful completion of this groundbreaking initiative. We would like to express our heartfelt gratitude to all the participants, partner organizations, and stakeholders who have contributed to the success of the VRTEACHER project. Your commitment, enthusiasm, and passion for transforming education have been instrumental in bringing this project to fruition.