The COVID-19 pandemic had a tremendous impact on the delivery of education and training and highlighted the urgent need to use innovative and technology-based pedagogical approaches in teaching and learning while stressing the need to empower the digital competences of educators. Due to the fact that a crisis such as COVID-19 results in a learning crisis with a catastrophic impact not only for future generations but for societies as well, urgent actions must be taken to adopt novel and technology-based support tools that can strengthen educator's skills and knowledge and promote the exchange of good practices ensuring the delivery of high-quality learning during crisis situations, such as a pandemic.
In light of these exceptional circumstances, the VRTEACHER project has the ambition to provide effective education responses related to educators' training via using a novel VR-based pedagogical approach for virtual practicum. The project aims to address the need for modernization and digital transformation of teacher education and training and reinforce educators' digital skills and readiness through a Virtual Reality (VR) training method and tool. The innovation of the project lies in addressing challenges related to class management in crisis situations, such as a pandemic, with the vision to equip teachers with key skills (e.g. empathy, perspective-taking, self-efficacy, adaptability, etc.) through immersive and experiential training experiences that reflect real-life scenarios and situations faced during a crisis.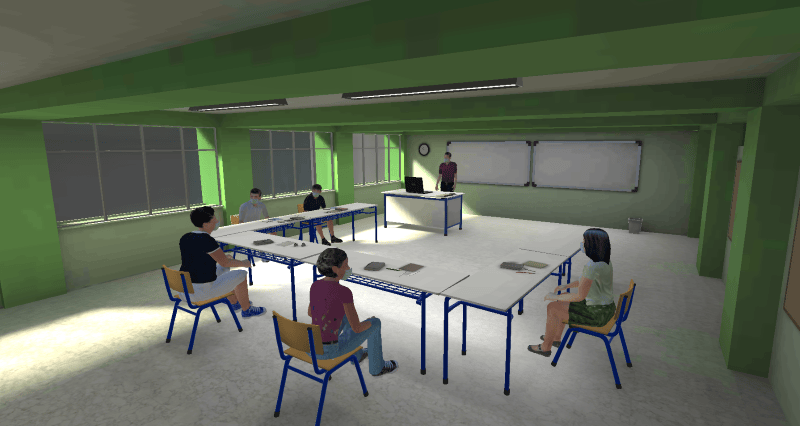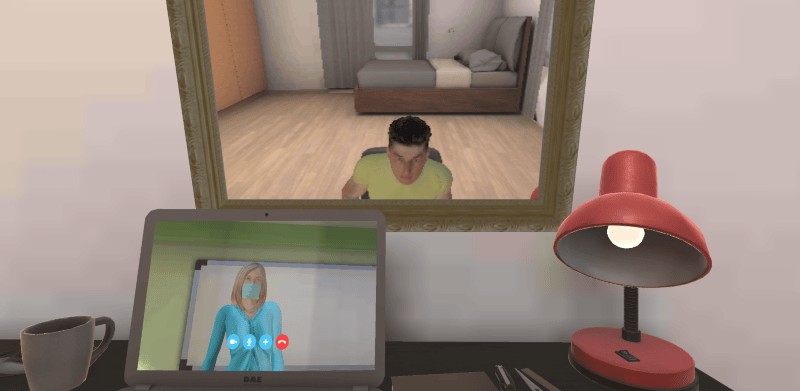 A VR-based approach is essential because access to training in real classrooms has several practical limitations (especially in times where spatial distancing is imposed) and runs the risk of harming real students. In addition to the practical gains in teacher training, the proposed immersive VR training tool could offer an alternative solution, a novel training paradigm to prepare educators and improve their personal and professional development, while offering highly motivating and engaging experiences. Equally important is that in a crisis-era like COVID-19, VR-based approaches are very flexible because they do not require the physical presence of teacher trainees. Hence, this flexibility of VR technology satisfies the current requirements and adaptation for social distancing but without downgrading teacher training.
The main target groups of the VRTEACHER project are pre-service student teachers (higher education students, Ph.D. candidates, etc.), and in-service educators/teachers. The proposed VR based approach can contribute to provide teachers a clear picture of the teaching profession clarifying their role within the school reality leading to their personal and professional development, can offer teachers the room for experimentation without the risk of harming real students, can offer teachers the opportunity to record their performance, reflect on it, and experiment maximizing their teaching performance. Most importantly, research findings indicated that the skills and knowledge gained during VR training can be applied to the real-life classroom, hence, VR-based teacher training offers a credible alternative to face-to-face training activities. Furthermore, within the proposed VR framework, special emphasis is given to inclusiveness and multiculturalism with the aim to promote the delivery of high-quality inclusive education and ensure that no student is left behind even during a pandemic crisis.
The results and intellectual outputs (IOs) which are expected by the project's completion are:
IO1 VRTEACHER competence model framework for VR-based teacher training
This IO aims to
analyze existing competence frameworks and identify teachers' needs during the COVID-19 pandemic
define a set of competences to be addressed within the VR training framework
Deliverable: Competence model framework report for VR-based teacher training
ΙΟ2 VR based systematic approaches for teacher training
This IO aims to
develop an online platform that will be connected to the VR tool, support teachers and promote and the exchange of good practices, and mentoring during the project but also after the end of the project
customize the existing VR training tool
Deliverable: VR application and manual
IO3 Evaluation framework and impact assessment tools
This IO aims to
evaluate the effectiveness and impact of the training activities and the implementation of the VR tool
identify proper evaluation methodologies, quantitative or/and qualitative tools, and indicators to investigate and identify the impact of the VR tool on the competences, skills, and knowledge of the in-service and pre-service teachers involved in the implementation phase
development of impact assessment tools and analysis of the results
Deliverable: Evaluation framework and impact assessment report
IO4 Developing best practice guidelines for VR-based approaches in teacher education
this intellectual output consists of the best practice guidelines that will summarize the methodology and guidelines to promote the use of innovative VR-based approaches in teacher education
Deliverable: Handbook of 'Good practices for VR-based approaches in teacher education'